In times of great uncertainty, nothing is to be taken for granted. The Covid-19 pandemic has proven that things can change very quickly. Large corporations or even whole industries can collapse while entrepreneurs with new innovative ideas have an opportunity to shine. One of the lessons that Covid-19 has reminded us is that humanity needs to and has the ability to adapt. Those that fail to adapt quickly become irrelevant. After the initial shock from the pandemic, companies began adapting and the blockchain space was no exception.
We begin this report by taking a look at all important developments. Please be patient with the loading time, the amount of information is extremely large. If you want to skip to the end (the analysis part), click here. Clicking on each month will open the events that occurred during that month.
Flashback:
Analysis
As expected, the month with the fewest news and developments was March. With Covid-19 quickly spreading across the globe and countries going into lockdown, business could not go on as usual.
Customers
Despite the pandemic, Ripple had a very good first quarter in 2020. In a video released on June 10 (but recorded in May), Brad Garlinghouse mentioned Ripple had signed 24 production contracts in Q1. Navin Gupta also revealed that Ripple was close to 350 institutions using its technology on May 22.
Employees
Mr. Garlinghouse also mentioned that Ripple had changed their hiring goal to reach 515 employees by the end of the year from 575 originally planned. Ripple would add 50 positions to the end of the year, meaning Ripple currently employes 465 people.
Quite a few notable executives moved on from Ripple, each for his/her own reasons:
– Dilip Rao (Global Head, Infrastructure Innovation, Ripple): Advisor at FlashFX
– Evan Schwartz (Senior Software Engineer, Ripple and Interledger co-inventor): –
– Dan Morgan (Head of Regulatory Relations, Europe, Ripple): Policy Lead, Europe at Plaid
– Kahina Van Dyke (SVP Business & Corporate Development, Ripple): Global Head, Digital Channels & Data Analytics at Standard Chartered Bank
– Miguel Vias (Head of XRP Markets, Ripple): –
– Danny Aranda (Xpring): –
– Vanessa Pestritto (Xpring): Agoric
RippleNet – ODL volume
Ripple's CEO spoke of an 85% increase in volume across RippleNet across Q4 to Q1 and ODL increase of 190%. In regards to ODL, however, Ripple has switched its emphasis from large treasury payments to individual, low-value transactions, addressing the growing need in remittances and SME payments. This has greatly reduced ODL volume as we know it.
Tenitoshi and CinnappleFun have created the Liquidity Index. It monitors liquidity for XRP/MXN, XRP/EUR, XRP/PHP and XRP/AUD. These are screenshots from June 30th:
At the same time 3 XRP community members, Mourad TOUMI, Labo-a-crypto-3.0 and XrPeace created Utility-scan, a page (you can view the code here) that listens for potential ODL transactions (more info on how it works by Moncho). Utility-scan has been "listening" for potential ODL transactions from various exchanges and so far it has picked up ODL transactions from the following exchanges: Bitso (MXN), BTC Markets (AUD), coins.ph (PHP), Bitstamp (USD, EUR, GBP), and Bitkub (THB).
Finally, H_M_X has also created a page to monitor the ODL flow.
All monitoring tools tell the same story, which is a result of Ripple's change in emphasis from large treasury payments to individual, low-value transactions, addressing the growing need in remittances and SME payments.
Events
Ripple also adapted by switching its annual Swell event to virtual. The event will take place on October 14-15. Ripple's Swell is also expanding this year with a summer series of regional webinars: North America (July 29), MENA (August 12), APAC (August 26), LATAM (September 2), and Europe (September 16). Xpring also introduced Developer Reflections, an initiative to highlight some of the work being done by the growing community of talented developers on the XRPL. Ripple's also started a new podcast series with its very own CTO David Schwartz as the host.
New products
Besides adapting its ODL strategy, Ripple announced a few new products. RippleNet Cloud makes RippleNet onboarding faster and easier while PayID, a universal payment ID simplifies the process of sending and receiving money globally – across any payment network and any currency. Ripple also started preparations for a loan product release for RippleNet customers.
New RippleNet members
Ripple announced 300 customers at Swell, in early November 2019. Since then, Navin Gupta revealed that Ripple had close to 350 companies using its technology, meaning Ripple signed approximately 50 customers since Swell. Some of the companies that have been formally announced or revealed to work with Ripple are:
– Kuveyt Türk Bank (Turkey)
– Top Remit (Indonesia)
– Banco Topazio (Brazil)
– Tranglo
– Al Ansari Exchange (United Arab Emirates)
– Bac Florida Bank (United States)
– Nubi (Argentina)
– Himalayan Bank (Nepal)
– Intermex (United States) – ODL
– Bank Asia Limited (Bangladesh)
– National Bank of Egypt (Egypt)
– BDO Unibank (The Philippines)
– Sentbe (South Korea)
– WireBarley (Australia)
– Hanpass (South Korea)
– Azimo (The Netherlands) – ODL
– AMNIS Treasury Services AG (Switzerland)
– National Bank of Fujairah (NBF) (United Arab Emirates)
– DeeMoney (Thailand)
– Waya (Africa)
– Go2 exchange (Hong Kong)
– BCRemit (United Kingdom)
– SpotOn Money (United Kingdom)
– Lulu International Exchange (Abu Dhabi)
– Orbit Remit (United Kingdom)
– Hatton National Bank (HNB) (Sri Lanka)
You can view all these companies and more at our Ripple ecosystem.
Organizations
Ripple is a member of various organizations like BAFT, INATBA, MENA Fintech Association, and others. Ripple joined ISO 20022, the global and open standard for payment messaging, to become the first member focused on Distributed Ledger Technology (DLT). Ripple also joined the mobility coalition (MOBI), a global nonprofit organization working to improve mobility using blockchains, distributed ledgers, and related technologies. Coil, on the other hand, joined as an Inaugural Sponsor Member of the Mojaloop Foundation, a charitable nonprofit organization to extend financial inclusion efforts initiated by the Mojaloop open-source software project.
Coil
Coil, a web monetization platform, had various developments in 2020 so far. Imgur, an American online image sharing community and image host founded in 2009, launched Emerald, an exclusive platform for Coil members. Coil also created a WordPress plugin, developed in partnership with leading WordPress agency Pragmatic and integrated with Uphold, a digital wallet and trading platform, offering more payout options to Coil users. Hacker Noon, the technology publishing platform serving 4M readers per month, announced a $1M strategic investment from Coil. DEV online community and U.S brands of media giant Condé Nast started using Coil for web monetization. MG.Social launched the beta version of a new type of social network that rewards users by allowing them to monetize their postings with Coil technology. Last but not least, a newly created browser extension, PayTrackr, allowed Coil subscribers to track their payments.
Benny, created the WebMotized Tracking Bot, a Twitter bot tracking the adoption of Web Monetization across websites. According to the tracker's data, 888 websites were Coil-monetized on June 30th. If you want to learn how it all works, you can read this blog post.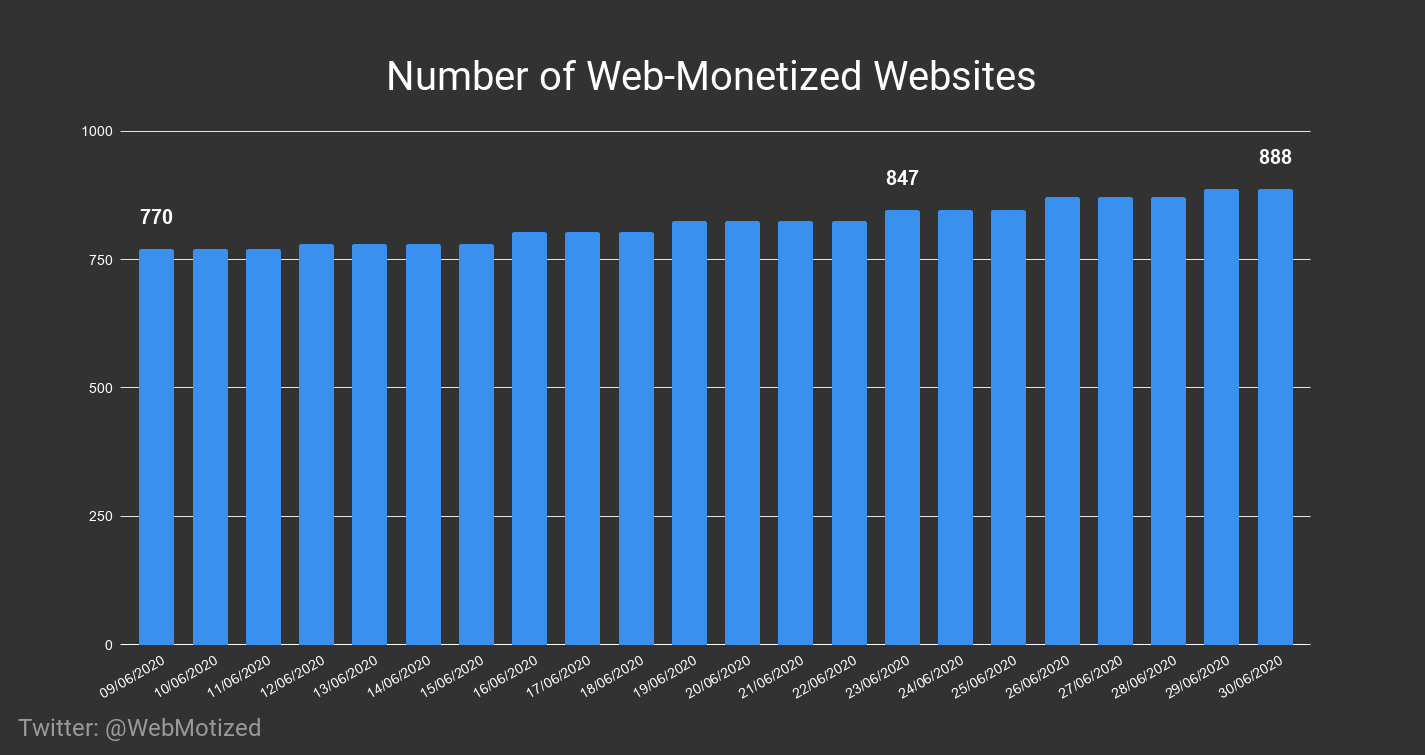 Predictions
While Ripple executives are usually careful not to make predictions or set deadlines, the past few months we've had quite a few. Marcus Treacher mentioned that Ripple aims to accomplish global coverage by mid-2021 and plug MoneyGram's cash payout to RippleNet this year. SBI Ripple Asia CEO also mentioned that SBI Ripple Asia is planning to go into production with ODL later this year and into next year. Marjan Delatinne said Brazil was coming soon on ODL while Marcus Treacher mentioned that Ripple is hoping to further ODL expansion by opening corridors to APAC and EMEA this year.
XRP price
In 2020 so far XRP reached a high of $0.337 and a low of $0.115. XRP also continued its drop in relation to BTC, from 2681 sats to 1936 on June 30th.
XRP's market dominance continued to drop from 4.36% in the beginning of 2020 to 3.02% on June 30th. On January 1st 2019, XRP's market dominance was at 10.88%.
It's useful to take a step back and look at this from a longterm point of view (using logarithmic scaling to make the price movement more visible).
Finally, XRP has shown less volatility in 2020 so far with the only exception being between March 12 and 13, affected by the general volatility in markets.
XRP Ledger
The XRP network reached the milestone of 1000 nodes on December 5th, 2018. The number of nodes at the beginning of 2020 was 993 and has now dropped to 905.
The network has continued its decentralization through 2020. Non-Ripple validators increased from 27 out of 34 (79.4%) in January, to 30 out of 36 (83.3%) at the time of writing. This means that non-Ripple validators can pass amendments without Ripple's approval. This has already occurred with the Checks amendment.
There has also been improvement in regards to the decentralization of the XRPL in regards to the location of the UNL validators. The countries in the UNL increased from 10 to 12 with the U.S. dropping from 68% control to 58%.
For additional metrics on the XRPL (transactions, payments, accounts, fees, etc) you can visit xrpintel or XRPscan.
XRP supply
The distribution rate remained low all through 2020, with a steady increase in the last few weeks of June.
XRP escrow
This is also evident from the monthly XRP escrow releases by Ripple. Ripple returned more XRP to escrow in Q4 2019 and Q1 2020 but in June and July 200m XRP were not returned each month. This, of course, does not mean Ripple sold 200m XRP each month but we expect an increase in Ripple's reported sales in Q2 2020 compared to Q1.
XRP volume
According to CoinMarketCap, XRP's volume mostly ranged between one and three billion per day, with an exception during the high volatility period.
Data from CryptoCompare on the other hand shows a much smaller volume, ranging from 100 to 500 million in 2020, with a few exceptions at 1 billion.
Exchanges
Exchanges that listed XRP in 2020 so far: LBank, CryptoSook, Hitmex, BitUBU, Smart Valor, Bitazza, Luno, CCryptoEx, WhiteBIT, Bibox Europe, W3EX, ShapeShift, Blockchain.com, Vinex, Eterbase, GokuMarket, TimeX, Exir, Armoney, PayBito.
Binance also added EUR and GBP pairs for XRP and made options trading available. Bitstamp, one of Ripple's ODL partner exchanges also added GBP trading to its platform.
At the time of writing, 389 exchanges offer XRP trading according to our data, with 1168 markets. It is also paired to 51 fiat currencies with a total of 386 fiat markets. The most popular fiat currencies paired with XRP are the USD (on 72 exchanges) and the EUR (on 56 exchanges).
We urge exchanges that have listed or planning to list XRP to take a look at this page in order to integrate XRP correctly and avoid falling victim to someone exploiting the partial payment feature.
As far as ODL (On-Demand Liquidity) is concerned, Ripple hasn't officially announced any new ODL exchanges. However, it was revealed that Thai exchange Bitkub is facilitating ODL payments for Thai baht (THB). Other known ODL exchanges include Bittrex, Bitstamp, Bitso, coins.ph and BTC Markets. It is expected for Bitso to grow along with Ripple and expand in other countries in Latin America, with growth in Argentina already a reality. Bitrue is another exchange that is expected to add fiat pairs and become an ODL exchange, with Binance also being another ODL potential suitor. Ripple funded DCEX, a US-based exchange, in August 2018 and also partnered with PDAX, an exchange in The Philippines that was launched in September 2019, but no announcement has been made in regards to ODL by neither party. SBIVC is also expected to kick-off the Japanese Yen (JPY) ODL market sometime in 2020 or at the beginning of 2021.
Companies accepting XRP
XRP adoption has grown significantly in 2020 according to Cryptwerk. From 469 companies accepting XRP in January, the number has grown to 653 in June. That is a 39% increase. Despite the increase, XRP is only 18% popular compared to other cryptocurrencies, with Bitcoin being at 89%, Ethereum at 47%, Litecoin at 37% and Bitcoin Cash at 35%.
Additions to the XRP ecosystem:
– Bitpay, the world's largest provider of Bitcoin and cryptocurrency payment services.
– Refundo, a leading provider of tax-related financial products and services.
– BRD wallet.
– Chainalysis, the blockchain analysis company for exchanges, government agencies, and financial institutions.
– Anchorage enterprise digital asset custodian.
– Arab Bank Switzerland for custody and brokerage services.
– Sygnum Bank, a digital asset bank, for custody, trading, and credit services on its banking platform.
– Maerki Baumann & Co becomes for XRP trading and custody.
– Beliani, a European online furniture seller.
– Fliqpay's cryptocurrency payment gateway.
– ShapeShift platform and KeepKey wallet.
– CoinLoan for crypto-backed loans or for earning interest.
– Volante, a global financial technology company, can use XRP to settle.
– Zero Hash, a FinCEN-registered Money Service Business and a Money Transmitter.
Regulation – Lawsuits
Ripple continues to push for regulatory clarity, not only for XRP but for the broader crypto industry. After India's Supreme Court historic verdict against the Reserve Bank of India ban on crypto, Ripple issued the policy paper "The Path Forward for Digital Assets Adoption in India", to help Indian lawmakers.
In the U.S., the Consumer Financial Protection Bureau (CFPB) announced a final rule that would revise The Electronic Fund Transfer Act (EFTA) as it relates to remittance transfer providers. This rule was filed in the Zakinov case by Ripple as part of its defense. Currently, there are three open lawsuits for Ripple:
Zakinov et al v. Ripple Labs (U.S. Federal Court in California).
Simmons vs. Ripple Labs (U.S. Federal Court in New York).
Ripple Labs vs. YouTube, LLC (U.S. Federal Court in California).
The case that progressed the most is the first one, with Ripple moving to drop all fraud allegations. Two years after the first lawsuit was filed, regulatory clarity in the U.S. is of the utmost importance for XRP.
Conclusions
The past six months have been extremely difficult. Adjusting to a new way of life with little to no warning has had its toll on people and businesses, but life goes on.
The XRPL got two new important amendments activated, "deletable accounts" and "checks". These amendments provide additional functionality to the XRPL and enable new use-cases for XRP.
According to statements from Ripple executives, Ripple managed to continue to bring new clients, even at a slightly reduced rate. Ripple adjusted by launching new products like RippleNet Cloud and Loans, in order to make RippleNet even more attractive to potential customers. Ripple also adjusted its hiring goal up to the end of the year, from 575 originally planned to 515. Ripple shifted its ODL focus from large treasury payments to individual, low-value transactions for remittances and SME payments. We believe that even though this shift may have caused ODL volumes to drop significantly it will bring greater benefits. This shift better serves XRP's original purpose and addresses a much larger market.
As Navin Gupta once said, Ripple has set out to "make a dent in the universe" and XRP is an integral part of that goal. The ship will not reach its destination overnight and the "captain" will need to make many adjustments to its course. Adjusting is not a sign of weakness, but a necessary step for success.